Blog
A Moment To Breathe
---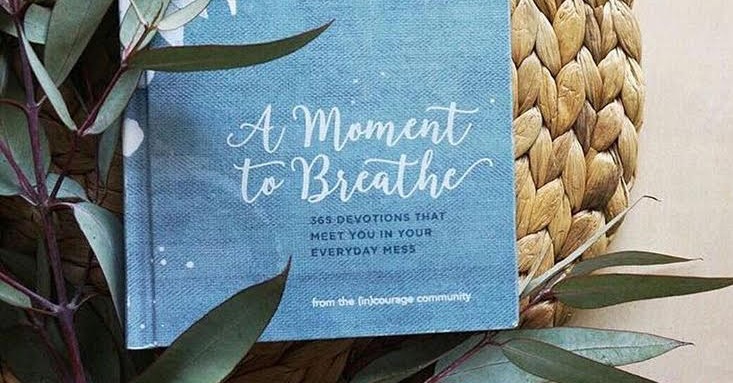 ---
I am the Goldilocks of devotions.  A devotion, for me, has to be just right. Not too long, not too short.  It has to relate to me and must speak directly to situations in my life.  When I read a devotional, I want it to stay with me throughout the day.  I want it to help adjust my heart as well as impact me enough that I will create memory space for it.  It's a tough order to fill.
The title of this book captured my attention, don't we all need a moment to breathe?  Being on the launching team for this book gave me the opportunity to view it before it was released.  Knowing I can be a devotion snob, A Moment to Breathe is something I have been enjoying.  First off, the texture of this book is amazing.  I never thought that would be a thing until I held this book.  It feels like tightly woven material.  In your hand, it feels inviting and comfortable.  The book fit's in your hand comfortably or in your purse for travel.  It's really the perfect size!
⋅
There were 80 writers who contributed to this book!  Every page has the author's name as well as their bio in the back of the book.  I found myself loving a devotion then flipping to the back of the book to read a little about that author.  With a few, "this author get's me" moments, I found comfort knowing I wasn't the only one struggling in a life situation.
⋅
The devotions are short and take about 5 minutes to read.  However, with questions to ponder at the end of each devotion, they give opportunity to go deeper in your study of the Word and navigate surely in your situation.
⋅
I'm truly happy with this devotional.  A Moment To Breathe is a breath of fresh air.  There is life on every page.  No matter your season or your struggle, someone lived to tell of it through this book and is willing to give their wisdom.  If you're looking for a devotional that feels relate-able, with lot's of life issues that we walk through … this is for you.
⋅
---
Comments
Anna Rendell

said on October 3, 2017 12:56 pm:

---

What a great review! Thank you so much, Meagan.
Anna Rendell, (in)courage
Social Media Coordinator

Meagan

said on October 3, 2017 1:01 pm:

---

My pleasure!