Blog
Letting Love Be Bigger Than Fears
---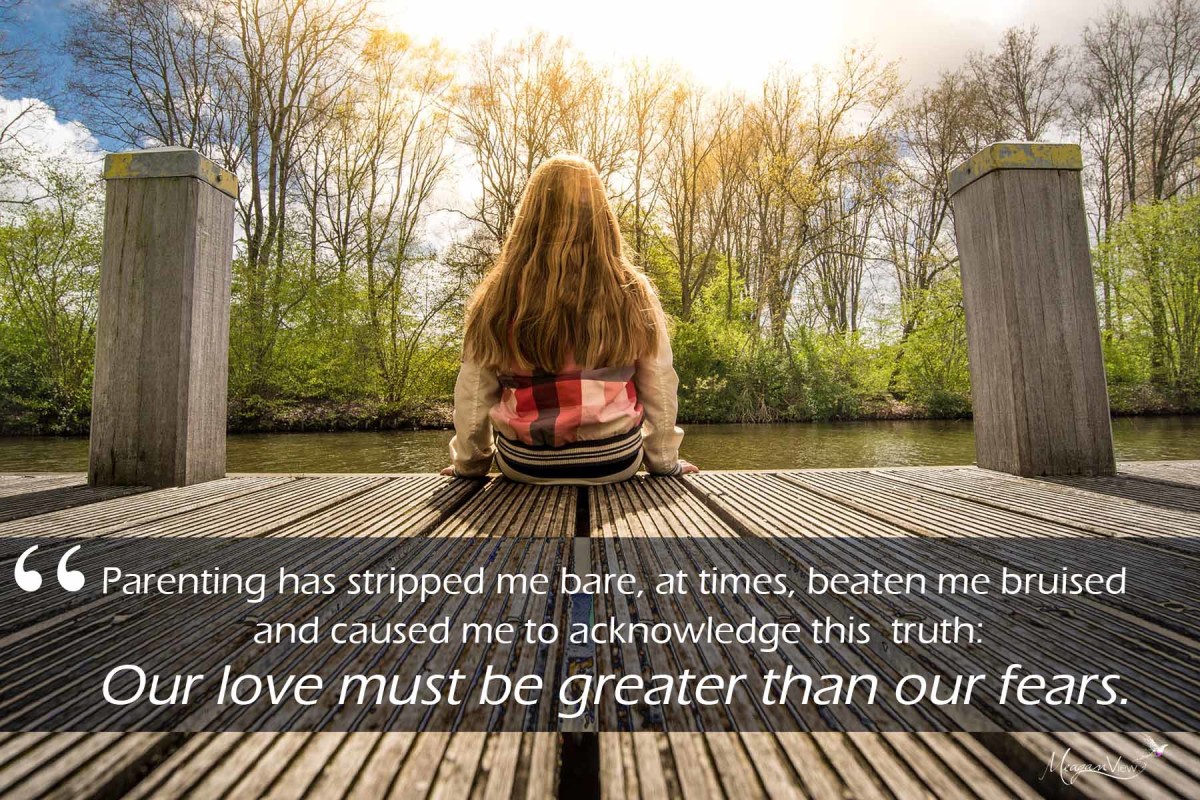 ---
Every new beginning for your child is a birthing place for you.
⋅
We labor to give them life, then freedoms … The milestones seem big when they're little. Walking, talking and then running, soon feel like you've trained them to run away with your heart enclosed in their wild zest for life apart from your arms reach.
⋅
And I feel a tightness in my chest, I don't want you to run, daughters … but I want you to explore everything God has for you. Pace my heart, Father, with Your step and their speed.
⋅
Words circulate in my mind and I refuse to catch and hold them in fear of having to acknowledge their sticky place in my heart … Fear, Wonder, Control, Joy … Exhaustion.
⋅
The Enough's list run long as well. Did I teach enough? Acknowledge enough? Encourage enough? Laugh enough? … Give wisdom enough?
⋅
Then they're are the Too's that conceive to cripple any parenting confidence.  Was I too hard? Too loud? Too negative? … Too quick to speak and not listen?
⋅
Parenting has stripped me bare, at times, beaten me bruised and caused me to acknowledge this truth: Our love must be greater than our fears.
⋅
Revelations of parenting pile high and I strive to operate in all of them … 
A truth given, if not used, becomes a place of regret. Click To Tweet
⋅
While all those sticky words, mentioned above, still churn, it's these truthful revelations that extend peace and pace my heart …
⋅
Becoming a Mom, does come with an instruction manual as well as a Tutor.  Every cry, every kissed ouchie, every strong willed moment and every "Can we have an adult conversation?" has been seen and heard by Father. God has been my Parent and my instructor, through Word and relationship. What He has brought me through and trained me in, He will continue.
⋅
I will not wish anything past or present. To say, "I wish I'd have done this differently." or, "I wish I could change the past." Is to void Father from that present time. What we view as a screw up, Father views as a teachable moment. His plan is perfect even when we think we missed it … His plan always works better. So instead of regret, fix the screw up today.  There is time today to begin a new.
⋅
Be cautious to parent as your child needs, not how you needed.  Always let the goodness you received trickle in but for those who battle regret and shame from their childhood, let me say this … those skeletons in your closet begin to dance loudly when your kid wants to do something you would have taken advantage of as a youth. Parenting from regrets, locks our child's freedom behind the bones we've buried. Refer to the manual … listen closely to Father and extend to them what Father has gifted to you.
⋅
Lastly, live presently. If we must cry, then let's cry to wash away sadness. If we must fight, fight to understand. If we laugh, let it echo into the future.
⋅
When our love is stronger than our fears, we see Fathers great parenting truths. Truths for us to actively live in and use. His truths lead us through rough waters when drowning feels inevitable.
⋅
Eighteen years of parenting has taught me this … His grace is sufficient. He's Enough when I come up short. He's Too wildly in love with me and my children. For that, I yield to His voice in moments of uncertainty. As parents, His love pours through as we give way to His directives.
⋅
I'm in a new birthing place as my first born graduates.  The words that circulated and churned, I release with open hands allowing room for Father hold and guide mine. When feelings run deep and seemingly off course, Father is acquainted with all our ways, He feels what you feel. He is also acquainted with our child's ways. Their fears, excitements, stirrings … He knows them better than we do.
⋅
As we set our hearts pace with Father, our children can never outrun us.  We are all loved fiercely and fervently by our Father.  As He parents us, we parent them … let us be living examples of a grace filled, forgiving, humble and in need of Savior, Parent to our children.
⋅⋅⋅  
From one parent in need of a Savior to another,
---