Blog
Quiet Invitation
---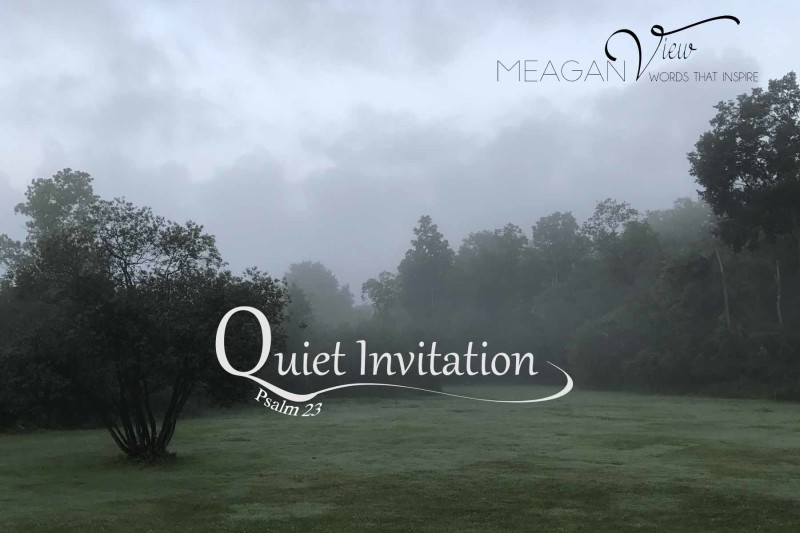 ---
Quiet places rarely happen.  Having a quiet mind and stillness of body is rare these days.  From the moment our feet touch the floor we invade a noisy space of accomplished tasks.  Our minds begin an hourly journey of sorting and analyzing.
Quiet is rare.
Stepping outside, my bare feet are welcomed by cold rock, however, I'm pulled into the warmth of a quiet morning. Moisture so thick it could be seen, hovering and waiting.  Walking through the dense air, I'm enveloped in stillness.  
Quiet invites us to enter, stay and listen.
The thoughts of yesterday have drowned in the stillness of today.  Yesterday's hurts and worries … arguments and tears, where are they now?  Yesterday's pleas and prayers … they've been silenced by the quiet of a new day.
Quiet reigns at the dawning of a new day.
 "Because the Lord is my Shepherd, I have everything I need!
He lets me rest in the meadow grass and leads me beside the quiet streams.
He gives me new strength. He helps me do what honors him the most.
When we're willing to hand yesterday's noise over to our faithful Leader, we're invited into the stillness of today's Quiet.  Noise that stirred anger, past pain that surfaced to try and pull us under.  Noise that taunts unworthy and unloved.  Noise that demands accomplishments, approval and acceptance.  These are places where our flesh is stirred and death is necessary.
Even when walking through the dark valley of death I will not be afraid,
for you are close beside me, guarding, guiding all the way." Psalm 23 (TLB)
Quiet whispers His plan.
Where we are lead, through noisy places, we can have quiet.  A valley is a place of death, it's also a place of victory.  Where your flesh has surrendered to Him, you are welcomed into quiet victory.
"Father, today, lead me into your quiet.  Lead me beside the stillness of heart and mind that I would see Your reflection clearly.  This flesh that echo's noise and chaos, help me to surrender my reactions, my pain, fears and doubts … I release into Your hands relationships, my job … above all, my heart.  Lead me, Father, into your quiet.    
---