Blog
Worship Was Never Meant To Conform
---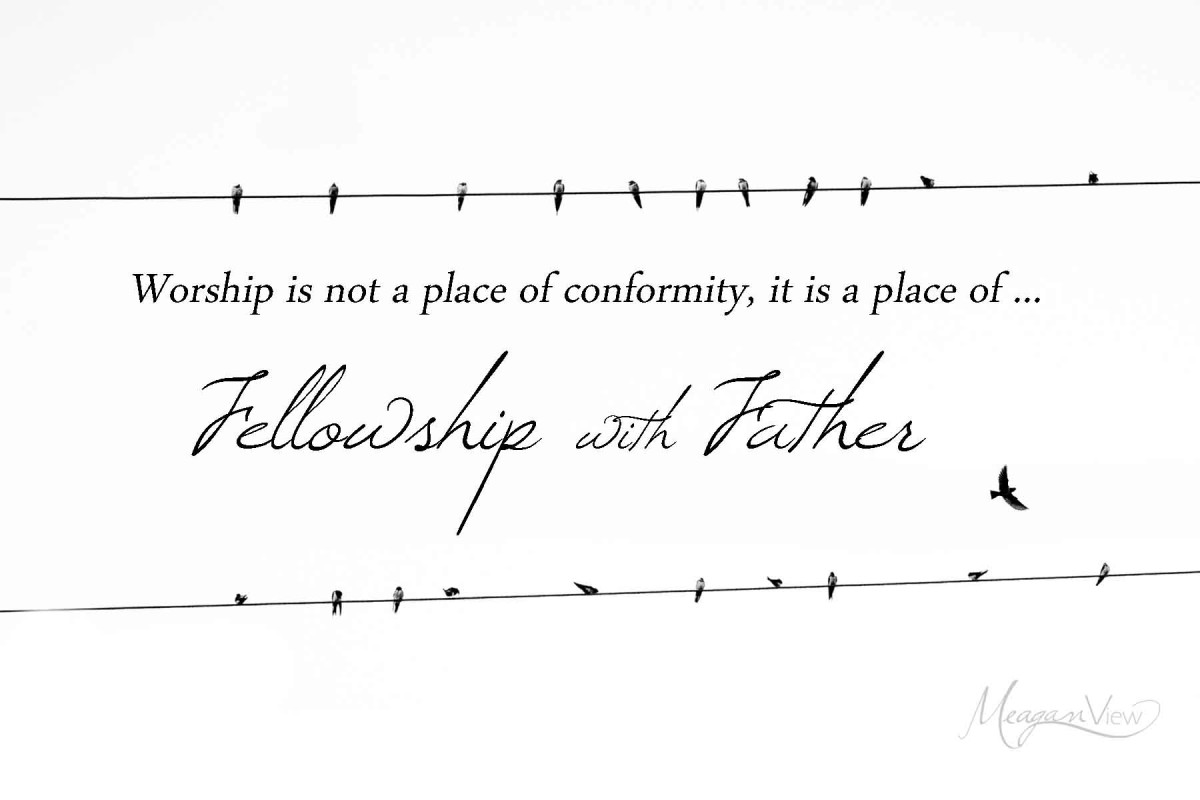 ---
This post contains affiliate links and I'll earn a small commission if you shop through them.  Click here to read my full advertising disclosure.
---
To explain where I'm going with this post, I have to tell you where I've been.  Twenty years ago I chose to believe a lie; the lie said that a believer worships in a certain manner.  It is the same manner you see coast to coast in every church across America … in every church there is a system, a method and conformity.  Twenty years ago I believed worship was an outward act of flag waving, dancing, singing etc. … and surely if you weren't moving, you weren't worshiping. (that would be the lie)
Simple Definition of conformity
:behavior that is the same as the behavior of most other people in a society, group, etc.
:the fact or state of agreeing with or obeying something
Before you continue reading, let me just say, I am not church bashing.  Some of my deepest relationships have begun in a church setting and continue to this day.  My hope is to illuminate the heart of worship to those who are searching for more … this is for the one's tired of conformity.
"Yet a time is coming and has now come when the true worshipers will worship the Father in the Spirit and in truth, for they are the kind of worshipers the Father seeks." John 4:23
This scripture is a foundation to what our perspective of worship should be.  Worship is about our spirit having fellowship with Father and the truth of who He is.  Sadly, the church has made worship into a song and dance.  What about the ones who don't like to sing or dance or for that matter, go to church?  Do they worship?
If I was to say to you, I want to get to know you better.  In my desire to know you, I want you to come to my house, sit at my table, and sing to me. Then, in my desire to know you, I want you to listen to me talk.  Would you come? … Probably not. 

Praise is a place of recognition; worship is a place of fellowship with Father.
Click To Tweet
So what does worship look like?  Worship looks like you.  Worship is taking the enjoyments you have and spending time doing them with Father.  Worship is a place of fellowship with Father, He gave you desires that you may enjoy them with Him!  I am an artist, but my creative ability is truly an expression of time spent with my Father.  My husband enjoys campfires, it is one place he has heart meetings with his Father.  The campfire is his place of worship.
If you worship with song, then sing.  If you worship with art, then create.  If you sit by campfires late into the night, alone with your thoughts … then rest.  Your expression of worship was gifted to you by a loving Father who simply wants to spend time with you.  The church does not, nor anyone else, have the right to define your worship.  Father defines the man and woman and child.  It is through fellowship with Him that you experience His freeing truth.
Could church become a gathering place where conformity is restricted and freedom of fellowship is loosed?  Could you dare call a place where believers met and discussed their time spent with Father, church?  When we are able to express our unique worship to others and have others express theirs to us we see God in a much bigger perspective.  What is your place of worship?  I'd love to know, because I would love to know more about our Father through you.
---
Comments
Julie

said on January 17, 2016 8:31 am:

---

Thank you so very much for this great article!!! I was raised in a conventional church setting and continued in that type of church experience since being married but found myself leaving church feeling worse than when I arrived. I feel the closest to God while in my garden with my plants and animals tending the very things given to us by the Creator Himself. Prayers and conversations come easy and contentment comes easy. Looking forward to spring… Thanks again!